YAV90MMU, 4¾ Digit DMM with 16-Ch Mux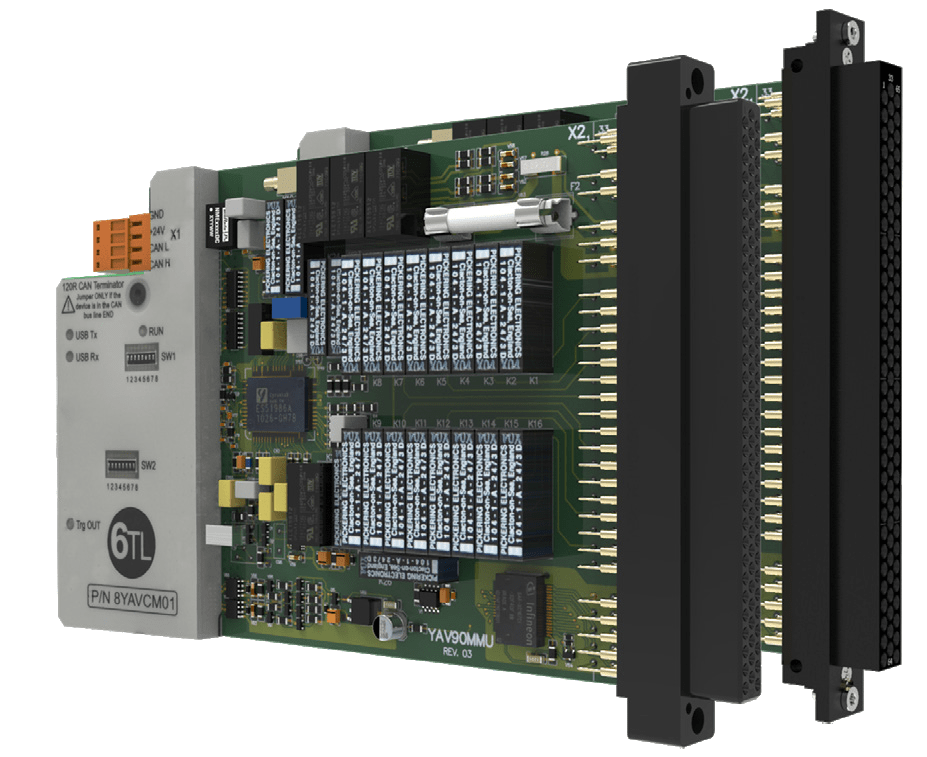 4¾ digit True RMS Auto-Range, up to 600 VAC
VAC, VDC, Ohms, Pt100, IAC, IDC, Capacitors, Diodes
Frequency meter (Up to 400 MHz) and Duty Cycle (Up to 1 MHz)
Peak hold function
Scanner x16 [600VRMS Measurement Channels]
Dielectric Withstanding Voltage (DWV) >1500V between Measurement Channels
Two isolated and programmable pulse generator channels.
Selectable output voltage.
External Trigger-In and Trigger-Out SMB connectors
CAN bus or Ethernet control
Ethernet to CAN bus gateway
8 Programmable digital outputs (PNP 24VDC 300mA)
Up to 10 readings per second
High quality connector module (> 20.000 mates)
Built-in test steps sequencer for 2000 steps
Programmable via Labview / Teststand or MS-Excel sequencer
As good as it gets
The YAV90MMU module (Multiplexed Measurement Unit) is a powerful subsystem containing 16-channel multiplexer and a 600V data acquisition channel with capability to control external switching and it is expandable through CAN bus.
The MMU has been designed to fulfill the needs of the most common electronics production testers, where 'PASS/FAIL' measurements are needed, and therefore the range of 4¾ digits is more than enough.
This module can measure either in auto-range mode or in manual-range mode. The MMU can perform the most common general-purpose measurements: AC/DC Voltage and Current, Frequency, Resistance, Capacitance and Diodes.
Thanks to the MMU integrated high voltage switching, measurement channels can be connected to different power supplies or to the grid phases, where differential voltage can be up to 600VAC.
The MMU can work in three different modes:
1) Master mode. The MMU is operating as a standalone tester by executing a script-based test sequence and returning a PASS or a FAIL. The script is uploaded to the MMU through Ethernet. The MMU will operate as CAN gateway for other CAN bus modules in the same network (other switching modules).
2) Slave CAN mode. A PC will execute the test sequence. Measurement results are available in the CAN bus. Ethernet is not operative.
3) Slave Gateway mode. Link to the PC through Ethernet, so the MMU, thanks to its CAN gateway, can handle other CAN commands to other CAN bus modules.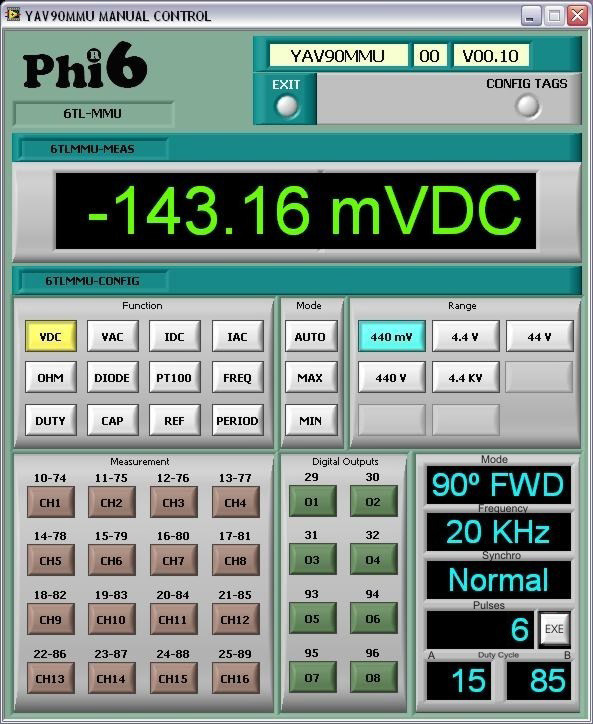 Measurement capabilities

ITA calibration kit
The calibration kit includes an electronic module that can be plugged directly into the unit to be tested. It features a resistor, a capacitor and voltage standards. It facilitates quick and local calibration of the YAV90MMU module. It has 4mm banana inputs to operate as a standalone multimeter. It also includes the tool making the VPC modules disconnection
easier.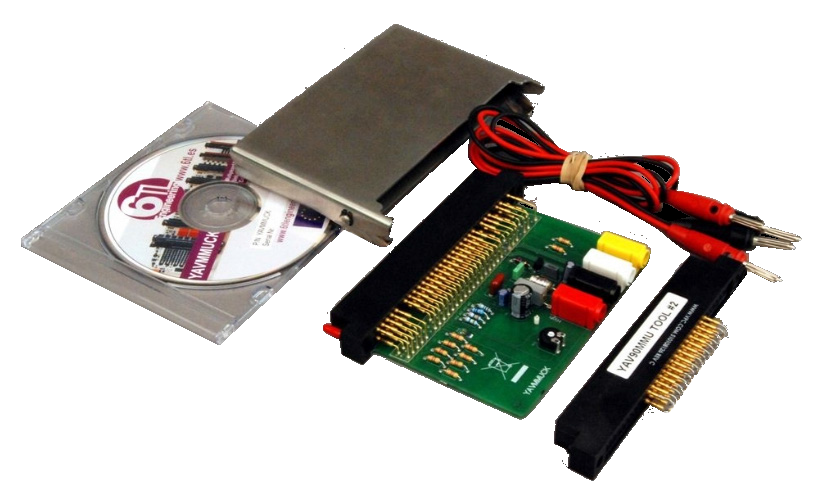 The YAVMMU is the main controller of the 6TL YAVPAck but can also be combined with any available YAVModule to grow to a fully automated test system including switching power supplies and other instrumentation.
Due to the VPC 90 Series Mass Interconnect connector that is available as standaard on every YAVModule these module can be easily integrated directly into the VPC receiver elimination the need for additional cabling between the instrumentation and the mass interconnect interface.
More on FastATE Testsolutions!
---