CANBus Multi sensor for ATE.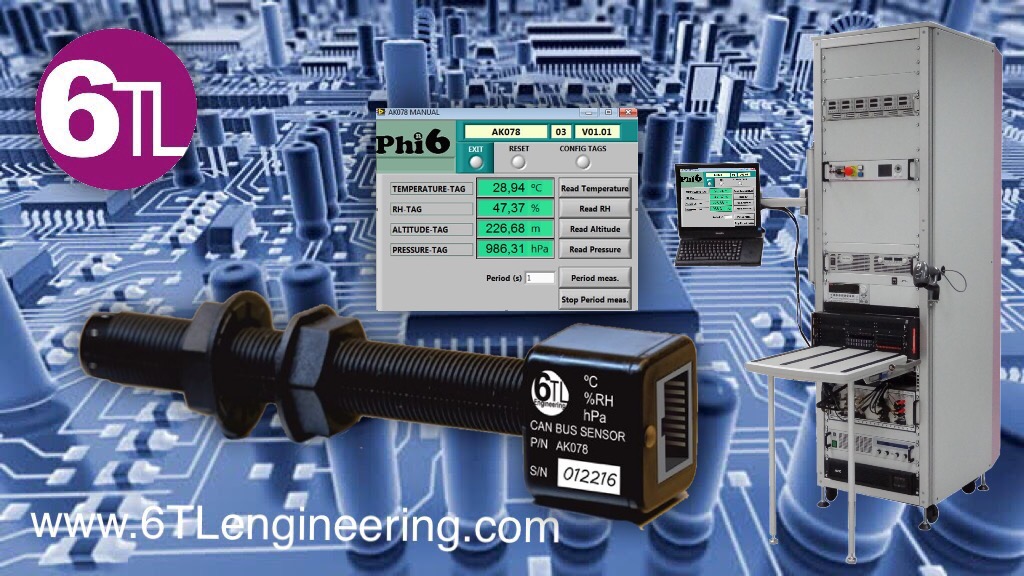 CAN Bus sensor, ºC, %RH & hPa Transmitter.
In Automatic test systems (ATE's) a change of temperature or humidity will influence the stability of your measurements in case your test equipment is not located in a very tightly controlled and air conditioned area.
To cope with these variable situations you need to monitor closely all variables in real time to be able to compensate for changes in the temperature, pressure or Humidity. This is exactly what the 6TL Multi sensor offers.
The 6TL AK076 multi sensor offers you the following measurements, from a very compact and easy to integrate housing. The CANBus makes it easy to integrate in 6TL's fastATE concept. The included Labview and Teststand drivers make it very easy to integrate these measurements and results into your TestStand test sequence or LabView test program. It provides you with the following information instantly;
Atmospheric Pressure
Relative Humidity Accuracy + 2%
Temperature Accuracy + 0.2ºC
Operating Altitude in meters
CAN Bus Interface at 50 kbps
Low cost RJ45 Connector
Addresses up to 16 units
LabVIEW drivers available
Each value can be monitored individually.
The AK076 Multi Sensor and transmitter can be used to log the environment conditions during the test runs in the ATE. In all cases Transmission of data is done through CAN bus. Its physical shape and small overall dimensions allow an easy integration and accurate sensor positioning in any test system or test fixture. The electrical connection is created through an 8 wire RJ45 connector. It includes 24VDC power supply input (2-wire), an indicator LED and CAN communication in one compact connection. Integration in the fastATE concept is done in minutes.
Even if the 6TL Multi Sensor was designed for monitoring during the electrical testing process it can also be used in many other applications. To monitor the offered variables in a room or hall for instance, or inside any electronic control cabinet indoors or outdoors the information given by the Multi sensor can be of great value for the reliability of the application it's being used in, in time. Collected information from many of these sensors will generate a lot off data in time. This, so called Big Data, can provide valuable input to guard or predict the behaviour off all kind of processes in many industries.
More information and pricing can be found HERE!! or just fill in the form below or visit our contact page.
---
---