Clip connectors.

Clip connectors
Clip connectors are Ideal for testing and connecting flexible cables. Romex supplies next to the shown standard versions (Blue Pitches) on request also special versions with customized pin settings, guide modules and smaller pitches are available.
These Clip Connectors are ideal for testing, evaluation and inspection of the printed circuit boards, modules or other units that have a connection using a flexible FPC/FFC unit. The clip concept makes a quick and easy connection possible without damaging the contact area.
This Clip connector is typically connected to the wiring terminal of an FPC/FFC to permit inspections of the UUT (Unit Under Test) or other device.
It is facilitating an easy, fast and reliable attachment to and removal from the FPC/FFC.
The product uses a spring probe to connect to the contact area of the FPC/FFC for a reliable connection in time.
These probes are easily replaced in case of problems. Probe sets for repair use can be ordered through Romex BV
The video on the right shows you how the clip connector can be used.
---
Other area's of use are;
Functional testing of video camera's camera unit, motor unit, etc.
Functional testting of HDD, CD, DVD, etc.'s pickup unit, motor unit, etc.
Functional testting of CD, DVD, etc.'s pickup unit, motor unit, etc.
Action check for LCD modules.
Evaluation and inspection for membrane switches or touch panels.
Inspection via FPC/FFC connection tip for cameras, AV devices, many variation of pickups, motors, electronics devices, parts, and more.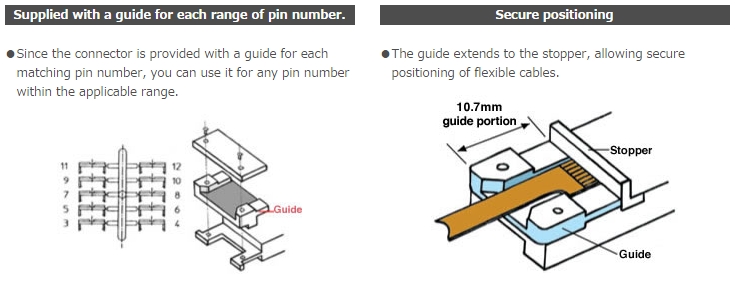 ---
---