Eliminating cabling in ATE makes sense.
Minimising cabling in Automatic Test Equipment does make sense!
When designing ATE's for Printed Circuit board or module testing, short signal lengths has always been an important factor in making your ATE more stable and reliable. If you are building a functional ATE then good quality cabling is even more important, due to the more complex signals to be measured.
With new technologies that work with higher data rates and need more bandwidth, cabling can become even a major problem in the quality or stability of your test system. In this newsletter we like to show you a way to minimise cabling as much as possible in your new ATE.
Measurement instrumentation:
The heart of each test system is it's measurement instrumentation. Regardless if you make a choice for separate stand-alone instrumentation or a more suited PXI solution each, instrument has a connector that enables it to be connected to the DUT (Device Under Test), see Picture 1. These connectors can be for a single signal or for multiple signals in case of a switch or multiplexer for instance. But one thing that these connectors all have in common is the fact that they are not designed and build to be connected and disconnected very frequently. In time, this will definitively result in contact failures. But before the contacts becomes really unreliable there is first a period where they give you intermittent contact problems and this results of course in unreliable test and measurement results, the last thing you want to happen in a production ATE because this will affect not only your yield but also the output of your test system. So if you are designing an ATE make sure your interface with the DUT is a reliable one, made to last and guarantee a reliable connection during the life of your tests system. The best solution is to implement a Mass Interconnect Interface in your tester design.
TIP: Minimise the usage of the instrument connectors as much as possible and replace them by a good reliable Mass Interconnect System.
Add a Mass Interconnect Interface to your ATE.
Professional Mass Interconnect systems for ATE can be divided in two major groups. The so called Pylon style interface, based on spring loaded testprobe technology and the connector style Mass Interconnect Interface based on exchangeable connector modules.
From experience we have learned that due to its design and the additional services Virginia Panel Corporation ( VPC) delivers, the VPC Mass Interconnect (MIC) solution fits perfectly in a modern modular test system design and helps engineers to build their test solution more easy by offering standard cable solutions. When adding a reliable MIC, that guarantees 50.000 connect and disconnect cycles, without signal degradation, you also need cabling between the measurement instrumentation and the MIC interface module. VPC provides for this purpose various cabling solutions. The most common one are the cable assemblies that are as part numbers available from VPC and can be ordered or self designed to suit best your measurement instrumentation setup, see picture 3. We recommend the use of the VPC style of MIC interface over the pylon style of MIC interface, because of the many advantages that will benefit your ATE design in reliability, flexibility and assembly time. In our example we will use the VPC G12 style Mass Interconnect Interface, see picture 2.
TIP: Adding a Mass Interconnect system to your ATE makes it much more reliable and flexible, but has one negative side effect, its additional cabling (see picture 6:).
Unwanted side effects of adding cables to an ATE,
Cables can cause lots of problems in an ATE and can have negative effects on the measurement stability of your ATE. Even if we use high quality Cable assemblies that are provided by VPC, we still introduce additional connector points and cable length between the measurement instrumentation and the actual DUT.
In the right schematic of the picture below (Picture 4;) we see the wiring situation if we use a VPC cable assembly between the measurement instrument (DMM), the MIC interface and between the Switch and the MIC interface. In the left schematic of the picture we see an additional connector point as we used here an additional, so called PCB adaptor (See picture 5:), making an easy and fast connection between the switch and the MIC interface.
To make it possible to take several measurement on your DUT using the same measurement instrument a switch is needed. This results in the plus (+) connection of the DMM going to the MIC Receiver connection module and from there through another MIC connection module to the switch connector and from the switch connector back to the MIC connector module and from there finally to the test probe making contact to your DUT. From the other side of your resistor on the DUT we follow the same route back to the minus (-) pole of the DMM. This means we passed 10 connection points. If we use the very commonly used PCB adaptor we even add an additional 4 connection points in the measurement line resulting in 14 points of contacts. If we calculate with 60cm between the measurement instrument and the MIC and with 30cm internally in the ITA (Interchangeable test adaptor) this one measurement results in 4,8 meters of cable used to take this measurement. These combined factors result in the following unwanted side effects;
Variation in signal length
Unstable measurements
Adding resistance
Adding capacitance
More contact area's (Connectors)
Adding noise, cross-talk
Adding cost (cable assemblies)
Adding complexity to schematics / manuals
Making fault finding more time consuming and complex
Debugging wil be more time consuming and complex
Risk for human error during assembly will increase
TIP: The above shows that trying to minimise cabling in a test system makes sense.
Minimising cabling using fastATE technology from 6TL.
What is fastATE?
fastATE is a concept from 6TL engineering that enables engineers to build complete test solutions in record time. Thanks to the modular approach of the fastATE concept 6TL can deliver a large number of autonomous, intelligent building blocks that take a lot of recurring engineering out off the design and development of a test platform. Using the fastATE technology you can create a complete base test platform, table-top, floor-mount or full in-line in less than 4 weeks. All the 6TL fastATE modules are connected using CanBus. This makes wiring easy, clean, simple and reliable. Phi6 Software enables you to calibrate, adjust or monitor each module making it simple to integrate in your own, or 6TL'sl test platform software environment. Click here for more on fastATE.
fastATE YAVModules eliminate the unwanted cabling in your test system.
6TL has developed a large number of so called fastATE YAVModules. These YAVModules replace the
instrumentation and switches in your test system that requires a large number of cables going back and forth between the MIC and the instrumentation. Typical Switches and Matrixes are instruments that require a lot of cables going from the switch to the MIC interface. Not with the 6TL fastATE YAVModules. These modules are placed directly into the MIC and therefore do not require any wiring between the instrument and the Mass Interconnect interface as it becomes a part of the same MIC using the same MIC connector modules. As each YAVModules will be directly mounted into the MIC receiver there are no PCB adaptors, patch cords or cable assemblies needed to make the connection between the instrumentation, multiplexer or matrix switch and the MIC receiver. (See picture below)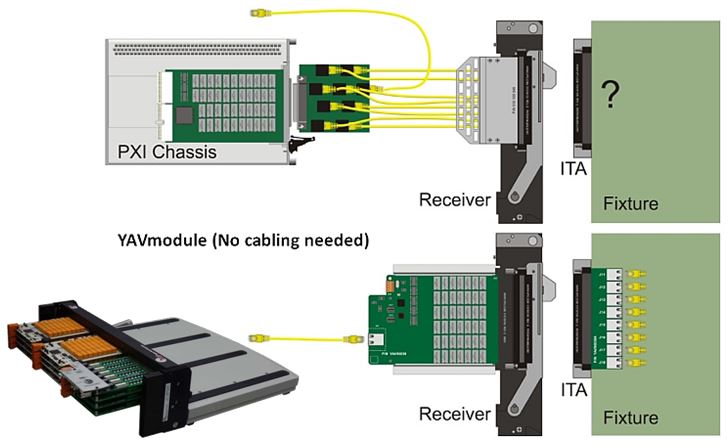 The only wiring that needs to be done is the CanBus connection in combination with the 24DCV to power the YAVModule. CanBus has the advantage that it is a simple and reliable bus that can be simply linked from one module to another making the wiring of the YAVModules and any other fastATE module simple fast and clean. Integrating the YAVModules in your software is like for any other instrument, easy and fast, due to the included, Labview and Teststand drivers, DLL's or CanBus instruction list. There is also a Software Development Kit (SDK) available, enabling the development of your own tester software environment in combination with our YAV90MMU multy measurement unit. To configure or calibrate your YAVModules a free Phi6 explorer software tool is included. For Teststand we also have developed custom Step Type tools to make programming of your test sequence more intuitive, easy and fast. An overview of the available YAVModules can be found here.
TIP: Use as many YAVModules as possible, in your design to replace your existing instrumentation and get writ of most of your cabling issues.
Benefits of the 6TL fastATE technology can bring you up to 70% time savings when building your ATE. (See Graph)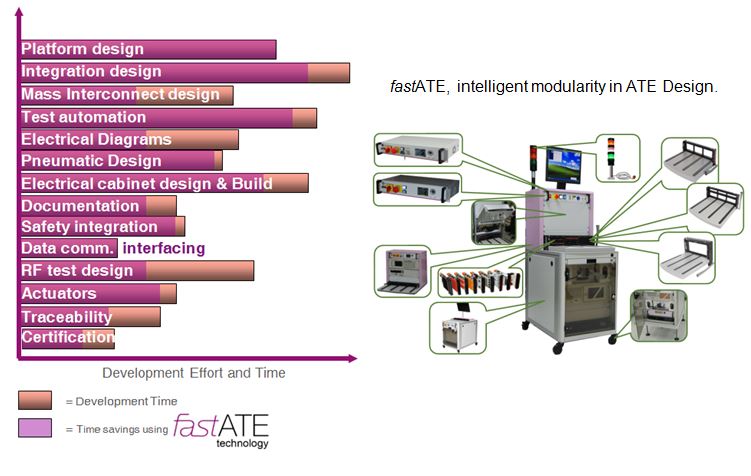 if you have additional question or if you want to receive more information, please use the contact form below or visit our contact page.
---
---