IsoDry, Dry-Storage, stikstof opslagkasten
Terra IsoDry, Dry-storage, dessicator / stikstof opslagkasten.
IsoDry Dri-storage Desiccators provide state-of-the-art, patent-pending humidity-control technology to reduce moisture-related degradation of semiconductor components, electronics, medical devices, pharmaceutical powders, and other sensitive materials.
Each cabinet employs a gas mixing module that continuously dilutes moisture with clean, dry nitrogen. A variable-flow humidity control system initiates a high flow of pure nitrogen the second an access door is opened or the internal environment exceeds the user-programmed sub-ambient humidity set point. As pure nitrogen enters the cabinet, moisture is displaced and released through an Automatic Relief/Bleed valve in each chamber. Once doors are closed and the system recovers set-point conditions, the system reverts to an economical low-flow purge (adjustable via the system flowmeter) to conserve nitrogen.
Extensive testing demonstrates how this design produces superior RH uniformity and recovery times.
IsoDry Desiccators include reinforced stainless-steel-framed doors, one automatic RB (Relief/Bleed) valve per chamber, relative humidity sensor, electropolished (EP) stainless-steel wire racks, and one EP stainless-steel perforated shelf
IsoDry Desiccators Overview
Versatile IsoDry desiccator, Dry-storage, cabinets protect your moisture-sensitive materials and eliminate harmful electro-static discharge and particulate contamination. One-piece door gaskets inhibit out-gassing while the Lift-latches prevent metal-on-metal scraping common with rotary latches. Illustration dimensions are in mm.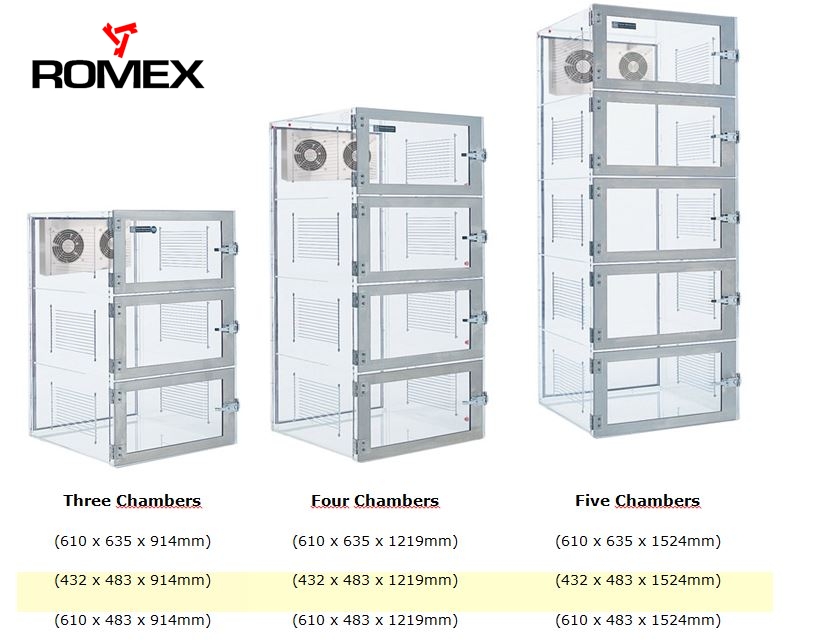 Features of the IsoDry Dry-Storage Cabinets;
Durable, efficient nitrogen-purged Dry-storage cabinets from the industry-leading desiccator dry cabinet manufacturer
Automatically maintains clean, dry, static-safe conditions to reduce part defects and extend product yields
Optional Smart humidity controllers provide unsurpassed efficiency to reduce nitrogen costs and maintain a constant, traceable clean, dry environment.

SmartDesiccator™ nitrogen cabinets incorporate humidity sensor/display module into benchtop cabinets
NitroPlex™ dry nitrogen cabinets provide multiplexed nitrogen control for optimal efficiency in larger desiccators

Unique design and fabrication techniques produce durable, tight-sealing nitrogen cabinets
Plenum chamber minimizes backfill, ensures uniform gas distribution
Automatic RB®
Adjustable Flowmeter allows regulation of incoming nitrogen flow rate
Full line of standardized sizes and components simplifies parts replacement
Doors with 304 stainless steel frames extend cabinet's service life and improve sealing performance
Electropolished stainless steel wire racks allow shelf placement at one-inch increments
Perforated (one included) or solid shelves help organize items and efficiently use chamber space
Locking LiftLatches™ open and close without straining doors, provide lock-out security
Static-control options protect sensitive materials against ESD
Grounded rack and door latch and built-in grounding terminals provide additional ESD safety
Conforms to DOD Handbook 263, MIL-SPEC 1686 and 1772 with selection of proper accessories.
Versatile Shelf Options
Terra offers a variety of shelf solutions. Shelves can be positioned at 0.5″ (13 mm) increments to accommodate different part sizes; they can also be removed and used as carrying trays. Grounding terminals are included standard on all Static-Dissipative PVC desiccators, allowing you to ground racks and shelves. Grounding is optional on acrylic chambers.
Acrylic shelves feature stainless steel BowGuards™ that support up to 35 lbs (15.9 kg).
Electropolished 304 stainless steel shelves, which support loads up to 45 lbs (20.4 kg), are available as solid or with perforations to facilitate gas flow. Their slight depth, 0.5″ (13 mm), provides a retaining lip along all edges.
Why is Electropolishing Critical?
Removes iron and other surface impurities that cause corrosion
Draws chromium and nickel to form a hard, protective finish
Removes irregularities (pits and burs) for an ultra-smooth surface that's easy to clean
Electropolished 304 stainless steel shields are designed to protect plastic chambers from scratching. They are highly recommended for installation on static-dissipative PVC chambers, which can, after repeated scraping and rubbing, lose their dissipative characteristics.
IC Tube Inserts
These versatile storage fixtures adapt a standard Adjust-A-Shelf™ Desiccator Dry-storage chamber for IC tube storage.
Each fixture includes four horizontal shelves, spaced 1.25″ (32 mm) apart, with slots that allow vertical insertion of dividing rods. These rods let you form bin sizes to accommodate IC tubes of many dimensions. Select stainless steel shields to prevent scratching (one shield is recommended for each dissipative PVC shelf). Spaces are provided for bin labels
Static Control Solutions
Even the slightest static discharge can spell disaster for today's delicate components. Because the dangers of ESD (electrostatic discharge) are amplified in a low humidity environment, Terra strongly urges that you consider these measures as part of your static control program.
Static-Dissipative PVC
Acrylic, the most common plastic used in storage enclosures, is a prolific static generator. The act of cleaning an acrylic desiccator with a cleanroom wiper is enough to generate surface charges that can discharge onto semiconductor components. One way to avoid potentially disastrous static damage is to select Static-Dissipative PVC.This material not only dissipates static charges safely, but it also eliminates the particle attraction that static charges create. Surfaces stay clean, inside and out, making this material perfect for use in Class 1 cleanrooms.Because static-dissipative PVC is transparent and highly durable, it can be used in place of acrylic in nearly any application, desiccators included. It features a surface resistivity of approximately 107 ohms per square, placing it in the "dissipative range". It is completely noncontaminating—with no measurable outgassing—and it resists a wide range of chemicals
Note: To protect Static-Dissipative PVC surfaces, desiccators made of this material must include stainless steel shields installed at the bottom of each chamber.
Self-Balancing Ionizing Nozzles
By ionizing nitrogen molecules as they pass through the desiccator plenum wall, ionizing nozzles neutralize electrostatic charges on all interior surfaces. They provide practical ESD control for charged nonconductive materials, which cannot dissipate charges to ground. And because they eliminate static attractive forces, they help control contamination: in a statically neutral environment, any airborne particles that enter a desiccator are more likely to remain airborne and to be purged out of the cabinet.
Conductive Shelves, Shields and Trays
For smaller components that can be stored on shelves, Terra's grounded stainless steel shelving provide a 100% ESD-safe enclosure.As the illustration depicts, grounded conductive plates (such as shelves) create a Faraday cage that prevents penetration of static charges. Because these conductive units are removable, they also protect your sensitive components from ESD as you transport them from one location to another
For more information on the above solution please contact us via our contact page or just fill in the below form.
---
Meer informatie kunt u vinden in onze webshop, Romex.nl of door eenvoudig en snel te reageren via onderstaand formulier. Mocht u ons direct willen bellen, kijk dan even op onze contact pagina voor de gegevens.
---
---